---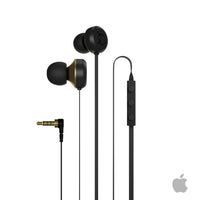 Degauss Dual Driver iPhone-Black
Regular price $59.00
Tax included.
Shipping
calculated at checkout.
Dual Driver iPhone Black. An 3-button Headset made for iPhone/iPad/IPod™
Free Freight
to the 
EU/ USA/ CANADA !
On Dual Driver each earpiece contains two separate speakers — one to handle the high and mid frequencies, and one to handle the bass. This separation creates a more rich and filled-out sound that makes any kind of music sound better. A dual driver design is also especially good for listening to high quality audio from lossless rips, HD videos or other high-bit rate sources.


The earphones have circuitry inside of them to split the signal path appropriately. Degauss Labs Dual Driver headphones come with microphone and controls on the cord so you can pause the music, change tracks, increase or decrease the volume and of course talk on the phone.
3,5mm I-Plug. Works with most Apple iOS based devices.